- followed by the distribution of presents to the children.
21st/22nd - Sant Antoni
Bonfires & Blessing of Pets - in the Old Town of Teulada
---
FEBRUARY 2018

3rd - Fiesta of San Blas
Teulada fiesta - Procession and distribution of Dama, a traditional cake in the shape of a man or a woman.
Carnival
Dancing in the streets and fancy dress costumes, "enfarinada" (flour-game) and "enterro de la sardina" (the "funeral of the sardine"). In Teulada and Moraira.
---
March 2018
25th March to 2nd April: Easter Holy week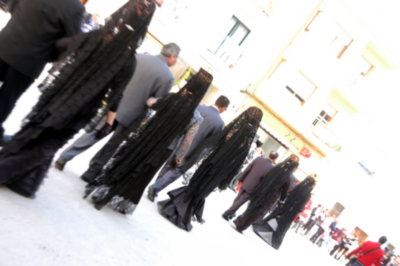 25th: Palm Sunday
29th - Maundy Thursday: Silent Procession in Moraira
30th - Procession of Holy Burial on Good Friday in Teulada
1st April - Procession on Easter Sunday in Teulada.

April 2018


4th to 15th - Fiesta Sant Vicent Ferrer
The Teulada Fiesta is in honour of St. Vicente Ferrer, the patron saint of Teulada, who was born and lived in the town. Festivities include processions with floats, dancing in the streets, live music, sporting events, firework displays, giant paella and bull-running.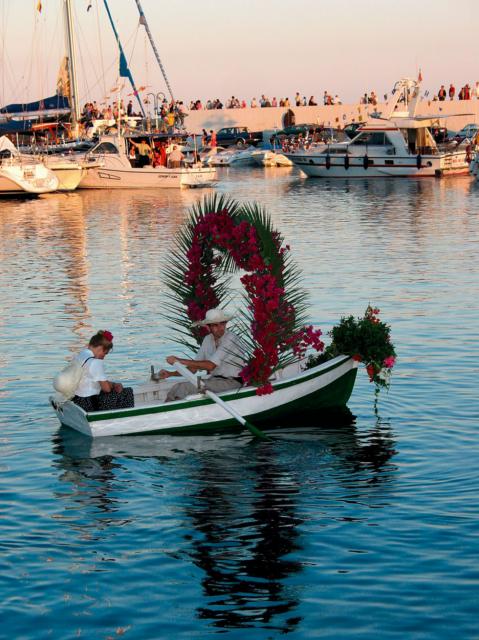 BULL-RUNNING - The famous bull running event is held in Teulada in April
Large, generally aggressive bulls are let loose in designated streets to chase after those who think they are fast enough to jump out of their way, run behind the many wooden barricades or into the steel cages set up for their protection, to avoid being gored. Bull running is not for the faint hearted, and definitely best left to those with more experience as it is not as easy as it looks. The bulls can be fast and people - often foreigners - do get hurt every year.


22nd Pilgramage: Hermitage St Vicent-Font Santa Chapel
Procession from Teulada to the Chapel of the Font Santa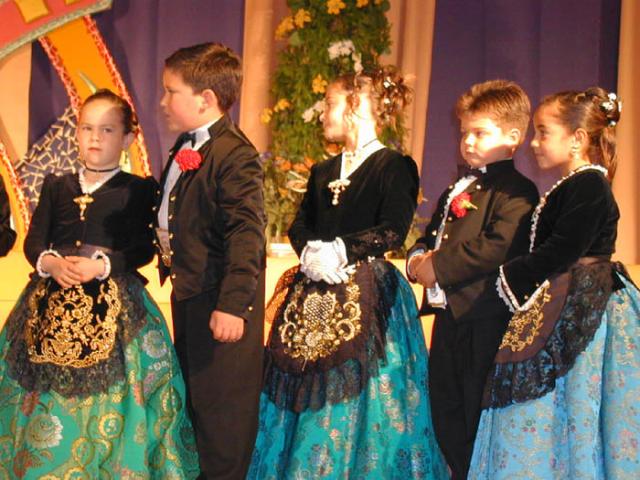 ---
APRIL / MAY 2018

---
JUNE 2018

3rd - Corpus Christi
Procession in Moraira.
Evening procession with traditional rites & dances in Teulada.
8th - 17th - Moors & Christians Fiesta
Spectacular night-time landing on the beach of l'Ampolla, Flower offering, Firing of Guns and a magnificent & final Sunday Gala Procession at 19:00.
23rd - Bonfires in honour of San Juan
To coincide with the summer solstice, and the eve of the feast of Saint John the Baptist, numerous celebrations are held on the beach & in the Town Hall Square in Teulada.
Festivities include children's entertainment, preparation of the bonfire, dinner on the l'Ampolla beach, lighting of the bonfire, the traditional leaping over the embers and dancing to live music. On this same magical night folklore dictates that it is the most propitious time to cleanse the body and spirit by bathing in the sea at midnight, and to reveal the zealously guarded secrets of traditional remedies.
Variable: Poetry Reading
Hermitage Font Santa

---
JULY 2018
29th June to 4th July - Fiestas of Font Santa
Festivities at Ermita de la Font Santa, including Bull running organised by the "quintos" of the year. Nighttime.
8th: Presentation of the 2017 Fiesta Committee of Moraira
6th - 22nd - Fiestas of "Nuestra Señora de los Desamparados" y "Virgen del Carmen"
Festivities & processions, including maritime procession & Firework Display on 15th and 16th, followed by "Els Bous a la Mar" (Bull running into the sea)
23rd to 29th - "San Jaume" - Fiestas of Benimarco
Festivities including live bands, bull running & fireworks.
26th - 1st August - Fiestas of "Els Sants de la Pedra"
In Calle Calvo Sotelo in Teulada - supper in the street, Mass Campaña, nighttime fiesta, Bull Running.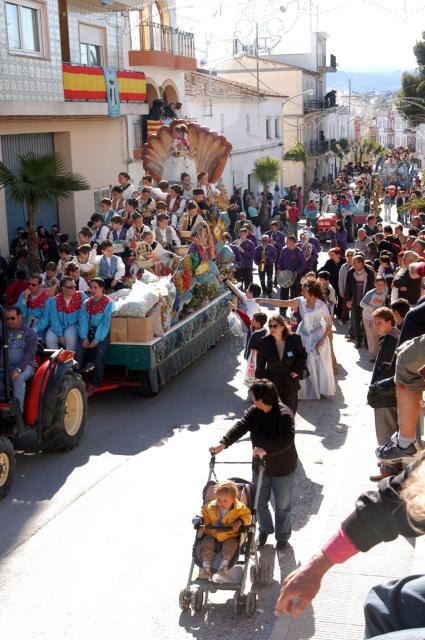 ---
AUGUST 2018
Date to be confirmed: Shopping Night: C/Dr. Calatayud, Moraira
9th - 12th - Medieval Fiesta & Market
Handicrafts, traditional products, juggling & theatre, recreating a medieval atmosphere in the ancient centre of Teulada.
Date to be confirmed: "Poemes en una nit d'Estiu", Poetry Reading - Font de l'Horta, Teulada
18th: Election of the Queens of the 2018 Festival, Teulada
Date to be confirmed: Short Films Festival "Curts de Moscatell de Teulada"
25th: Moscatell Festival
Rock Night, Muscatel wine and grapes tasting, traditional Music and dances, Teulada


---

SEPTEMBER 2018
Date to be confirmed: DOLIA: Showing of Oenotourism and Grastronomy
Auditori Teulada Moraira
Date to be confirmed: Fiesta "Divina Pastora" and Cantada a la fresca
Traditional music & dancing in Old Town Teulada.
End of the Month: IX Foto Sub Competition
---
OCTOBER 2018
5th - 7th Oktoberfest Moraira
Parking Les Sorts
---
NOVEMBER 2018
2nd or 3rd Week-end - Festival of Santa Cecilia
In Teulada, the Agrupacaión Musical Cultural celebrate their patron saint with an extensive programme of concerts and parades through the streets, where music lovers can participate.
23rd to 25th - Fiesta of Santa Catalina
Cultural activities in Teulada, ending with Sunday Procession.
---
DECEMBER 2018
Various dates: Christmas Commercial Campaign to promote the local Shops
8th: Half Year of Peñas, Moraira.
15th: Half Year of Moors and Christians Festivity, Moraira
16th: Christmas Market
Market of typical Christmas products & bric-a-brac in Teulada Town Hall Square