Artificial Grass Spain | Garden products in Calpe | Calpe Online 24

Artificial Grass Spain supplies quality artificial grass for gardens, sporting installations, public spaces and childrens play areas.
They can offer over 20 different types to suit all budgets and requirements and all come with an 8 year manufacturers guarantee.



---
The Business

Artificial Grass Spain provide over 20 different types of grass for domestic use alone. Sporting grasses, golf grasses and coloured grasses are also available.
Their grasses are available in a variety of styles and price ranges, and they are happy to assess what level of installation is required, whether it is a simple installation on to a terraced area or will the ground need preparing.
They are happy to provide a quote for both installation and supply, and all their grass comes with an 8 year manufacturers guarantee.
Artificial Grass Spain provide a comprehensive and simple service - from order to installation most jobs can be completed with in a week. The installation typically is completed within two days.

They cover Javea, Moraira, Calpe and all surrounding areas.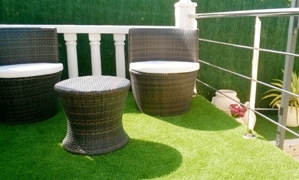 ---
The Products

Artificial grass has come a long way in the past few years.
• Artificial Grass is now very realistic. They have an unrivalled selection of grasses meaning they have a grass to suite every taste and to accommodate all budgets.
• Artificial Grass provides an excellent alternative to tiles. It feels great underfoot, it is less slippery around pools ( although nothing is 100% non slip around water ) and it does not chip or crack.
• Child friendly, providing a soft, appealing place to play.
• Dog friendly, easy to keep clean.

Save money, your time and the environment.
•No regular watering, saving hundreds in water bills.
•No maintenance, no mowing, aerating, top dressing and patching up.
•No costly lawn feeds to purchase.
•No irrigation systems to install and maintain.
•Their Artificial Grass are all made in Spain and are certified.
•Their Artificial Grasses have an 8 year manufactures guarantee ( with correct usage and installation ).
•Achieve an instant garden which looks great all year