Net Connect
's aim is to provide internet and telephone services to areas where there is currently little, poor or even no service.
Using transmitters located in strategic areas, their network offers a wireless alternative to a conventional fixed line connection, using a small receiving panel installed on your roof and cabeled into a fixed point within the property. Alternatively, you can have a wireless router installed, giving you the freedom to connect to the internet with your laptop, anywhere in the house.


Switching to Net Connect couldn't be simpler! Simply give them a call and they will arrange for a technician to check the signal at your property. If it is positive they can have you connected and on line within days. Connect NOW to really start saving money!


---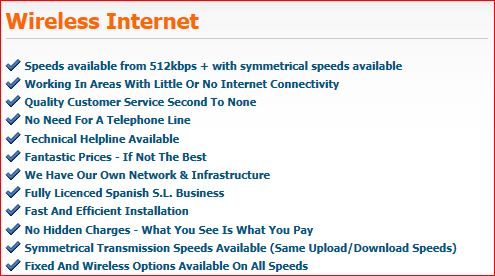 ---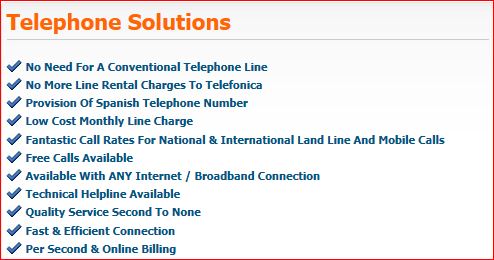 ---
About the Business

Net Connect specialise in providing a quality of service second to none, accompanied by fantastic prices and special offers available.

At Net Connect they also pride ourselves on being able to offer a 24 hour technical helpline, available to all of their clients as well as a support section.

You can visit them in their office on the Moraira - Benitachell road.

Their service is based on reliable wireless internet with their own masts and infrastructure in various areas providing coverage across the Costa Blanca.

There are new areas coming online all of the time which you can constantly check in the AREAS COVERED below.

Their fantastic VOIP telephone solution is also available to anybody who either has our internet service or to anybody who has an existing internet connection from any other provider.




---
PRODUCTS & PRICES

STEP 1 - Installation Options

OPTION 1
FIXED INTERNET. A basic fixed installation including the exterior receiving antenna, cable (up to 20mts) poles & brackets. This connects your computer to a fixed point within the property.

OPTION 2
WIFI. A basic installation including the exterior receiving antenna, cable (up to 20mts) poles, brackets and wireless router. This allows you to connect to the internet wirelessly (WIFI) from anywhere within the property.

OPTION 3
VOIP. Provision of a VOIP telephone adapter which connects to your existing telephone handset, along with a Spanish telephone number, allowing you to make and receive calls via the internet to fixed and mobile numbers


STEP 2 - Choose Your Internet Speed

1mb - €19.99 per month *

Up to 2mb - €29.99 per month *

Up to 3mb - €39.99 per month *

* Call for more information on special offers

STEP 3 - Choose Your Telephone Options

Net-Tel 1 - €14.99 per month *

Net-Tel 2 - Call us *

* Call for more information on special offers



---