The Restaurant

Ralf & Theresia, welcome you to their fabulous new restaurant, Die Kleine Weltlaterne.

Located on the Moraira to Calpe coast road, it is easy to find - on the right just before the Supermarket Pepe la Sal and the New Moraira Fitness Centre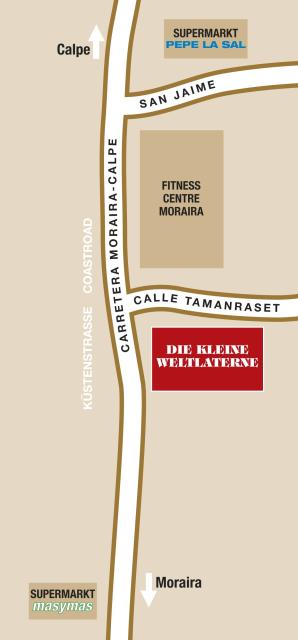 Inside Die Kleine Weltlaterne there is a wonderfull collection of German souvenirs & memorabilia - it is a real taste of Germany, with a rustic, authentic atmosphere.

Outside the restaurant there is a fantastic beer garden ideal for eating outside in the summer months. There is plenty of space, and shade for when it gets too hot!

All the food is authentic, with dishes such as Schnitzel, steaks, salads, German sausages & goulashsoup being their specialities.

To wash it all down they offer a fine selection of German beers.

They are open every evening from 18:00 untill late.