Tsunami | Jet Ski, Water Sports, Quad Bikes & Paintball in Moraira

Tsunami Jet Ski School based in Moraira offers a range of
"Lots of People are Having Fun.....What about You?...."

Tsunami Jet Ski School based in Moraira, offering jet ski rental, parasailing, paramotor, kayak rental, paintball, buggy and quad biking.
They offers a range of sightseeing excursions along the Costa Blanca Coastline.

---
The Business

This is a well established Jet Ski Rental & Excursion business in Moraira. The business is based on the seafront in Moraira, next to the Castle.


They offer a fun experience using the best equipment and standards for safety.


Come and talk to the multi-lingual team at Les Sort who can give advice on hiring a jet-ski, organising a class for beginners, or booking a wonderful Coastal Adventure.

Taunami also offer a wide range of fun activities including parasailing, paramotor, paintball, kayak rental, banana boats, quad biking and buggies, and sailing lessons.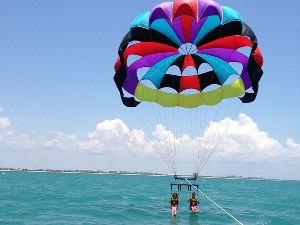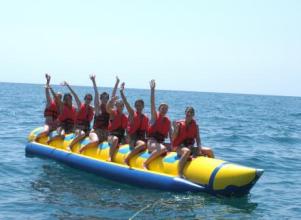 ---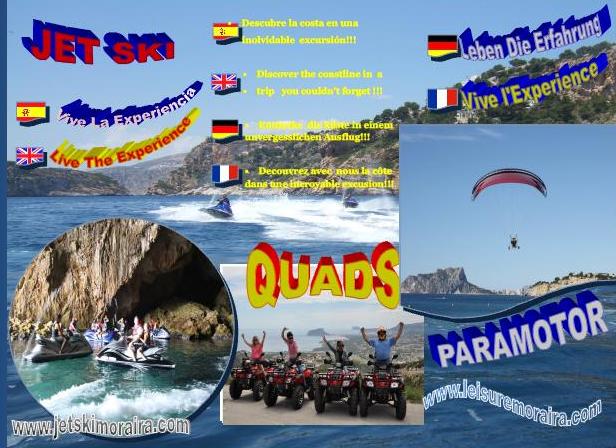 ---
Jet Ski Classes

The experienced instructors at the school organise classes for beginners.

Lessons are organised on a private or group basis.

Jet Ski Hire

At Tsunami you can hire the best of Jet Skis. All Jet Skis are fast yet safe machines, able to seat 1, 2, or 3 people, including children.

A minimum hire of 20 minutes is required.

---
Jet Ski Excursions

A wonderful choice of excursions is available to give you and your family an unforgettable experience. Their special excursion is a Trip to the Caves, where you can visit Coves, Caves and Grottos.



These include:

Excursion to Calpe
Excursion to Cabo de la Nao
Excursion to Benidorm Island

All trips are accompanied by the experienced instructors at Les Sort.

Daily trips are organised in the summer, and advance booking is required.
---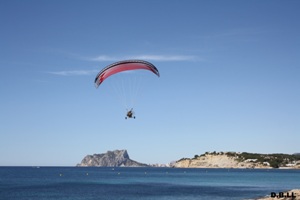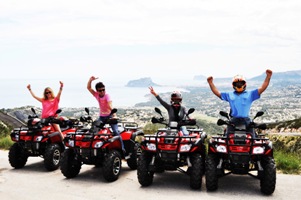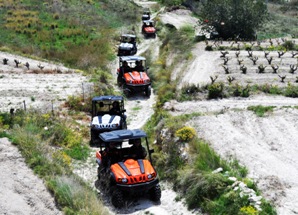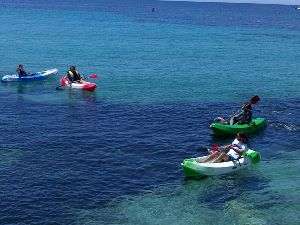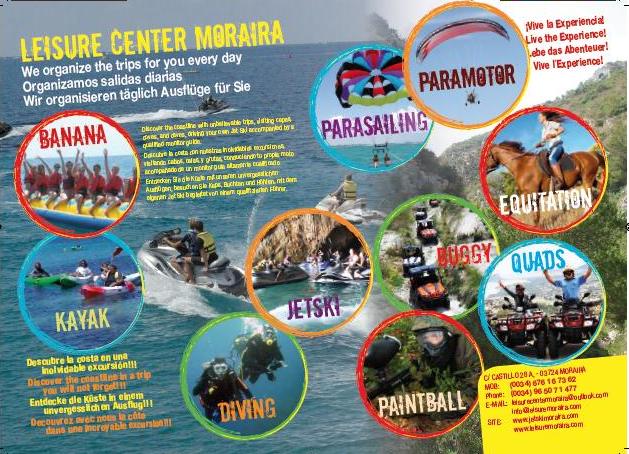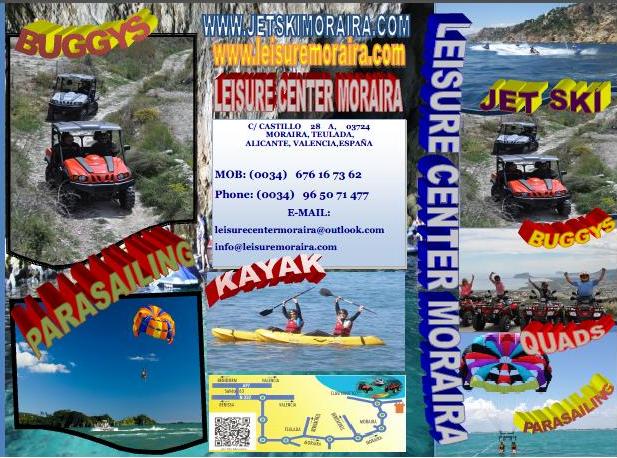 ---
Prices

JET SKI
CAP DE LA NAO 1:30 HORAS/Hours 140 EUR
PENON DE IFACH 0:30 HORAS/Hours 80 EUR

KAYAK
PORTET 1:00 HORAS/Hours 20 €
BALADRAR 2:00 HORAS/Hours 30 €
CALA DEL LLEBEIG 3:00 HORAS/Hours 35 €

QUADS
2 HORAS/HOURS 130 EUR
CUMBRES ANTENA 1:00 HORA/Hours 60 EUR
LONG EXCURSION 3:00 HORAS/Hours + MENU PAELLA & DRINKS 150 EUR

BUGGYS
2 HORAS/HOURS 140 EUR
CUMBRE ANTENA 1:00 HORA/Hours 90 EUR
EXCURSION TUNELES 2:30 - 3:00 HORAS/Hours+ MENU PAELLA Y DRINKS 160 EUR

PARAMOTOR
EXCURSION 20-30 MINUTOS 90 EUR PER PERS ?

PAINT BALL

200 BALLS 20 EUR + TRANSFER PER PERS (10 EUR)
300 BALLS 25 EUR+ TRANSFER PER PERS (10 EUR)
400 BALLS 29 EUR+ TRANSFER PER PERS (10 EUR)
500 BALLS 33 EUR+ TRANSFER PER PERS. (10 EUR)



HORSE RIDING
1 HOUR 30 EUR + TRANSFER PER PERS (10 EUR)


BOAT TRIP
CABO DE LA NAO 1:30 - 2:00 hours 35 EUR PER PERS.


SAILING SCHOOL

MONDAY - FRIDAY 20 HOURS 10:00 - 14:00 & 16:00 -20:00
ADULTOS 225 EUR
CHILDREN 175 EUR

SATURDAY & SUNDAY 8 HOURS 10:00 - 14:00 & 16:00 -20.00 ADULTOS 100 EUR
CHILDREN 75 EUR