Buenavista Tennis Club is a privately owned Tennis Club located between Calpe and Moraira on the Costa Blanca, Spain.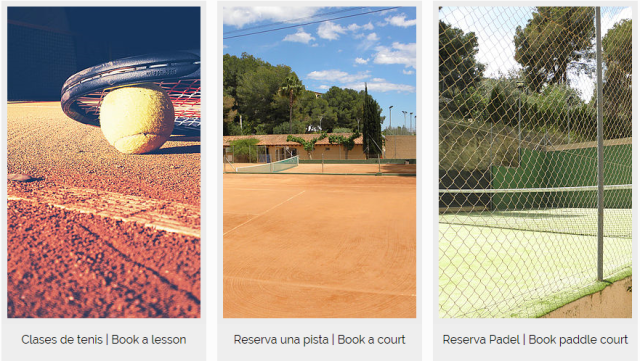 It offers annual / monthly membership, and is also open to the non-members and visitors off all nationalities
.
Tennis Lessons in Moraira are offered at all levels of play, for adults & children.

---
Tennis Facilities
The Club de Tenis, Buena Vista has the following facilities –
• 6 clay courts.
• 2 paddle courts.
• Gymnasium.
• Dance Studio.
• Table Tennis.
• Pilates for all ages
• Basket Ball.
• Sauna, changing rooms and showers.
• Children's playground.
• Bar Cafeteria and Terrace.

They also provide the following services -
• Tennis lessons.
• Summer & Holiday Camps for children.
• Ranking, Championships and Family Cups.
• Tournament Parties, Birthday Parties and more.
• Racquet stringing.
Non members & Visitors
Non-members and visitors are welcome to visit the club to book or use the courts on an hourly basis - contact the club for more information.
Tennis School
The Tennis School of the Club de Tenis, Buena Vista, can provide lessons for all ages and all levels, and is open everyday!

• Initiation
• Basics - 1 hour per day
• Intensive – 3 hours per day
• Advanced tennis
* Competive Teams
• Tournaments every Saturday
* Playing in the 1st Division
* Federation of Tennis clubs
Fitness Centre & Gymnasium

Gymnasium

There is a Gymnasium available for those who take their health and fitness levels seriously

Prices start from just 25€ per month. Come along for a free trial!

New at Buenavista Tennis Club especially for the over 60,s are fitness classes that are held every Tuesday & Thursday @10,00

Saturday @11,00 for 1hr

Kieran Owens

- is the resident Health Coach/Therapist/Personal trainer who offers help with

*Body Pain

*Chronic Injuries

*Weight Control

*Stopping Smoking

*Fears & Phobias

*Addictions

*Stress

*Holistic Treatments

Call Kieran for more information on

(0034) 602 591 957 / 07857 270 561 or visit

http://www.kobeachbootcamps.com/ Club de Tenis, Buena Vista also provides Dance and Yoga classes


• Salsa and Latin American Dancing, Saturday Afternoons with

• Oriental Fusion Dancing, Saturday 8th May at 17:30 – Teacher – Jasmin Aischan.

* Tango Lessons (tiempo de tango) with Guillermo Alvarez

visit his facebook page

https://www.facebook.com/events/342881449125095/

* Personal Trainer using Miha Bodytec progam

• Yoga, Monday 10th May at 12:00 – Teacher – Nicole Stone
Children's Summer School
From June 27th - 28th July, and 1st-31st August
Monday to Friday
From 09:00 till 14:30
Options: Weekly (120€ / 5 weeks (415€) / Daily 30€

From 4 to 14 years old - Children's menu included.

A family atmosphere – learn and have fun.
• Tennis Lessons
• Swimming Lessons
• English
• Fancy Dress
• Handicrafts


---